Companies who want to hire AI human resources
Bangladesh AI human resources job placement services
AI/IoT/Big Data human resources job placement services for new graduates
Why now, Bangladesh AI human resources?
Most of the university IT students of Bangladesh after their graduation migrate to overseas countries for employment. For an example, we can sight the case of an IT professional who entered in the university in 1993. He was telling that during his time about 80% of the new IT graduates used to migrate to the overseas countries for employment. Also we have data that shows that after 2000 many IT graduates have been hired by the world giant companies like Microsoft 12 graduates, Google 8 graduates, Amazon 8 graduates, Intel 6 graduates, Oracle 2 graduates and Apple 2 graduates (based on data collected from linkedIn). And 30 graduates from Bangladesh are working in NASA.

The reason why many graduates are being hired by world giant companies is the curriculum that is consists of many AI related courses. From 1st level to 3rd level there are many related courses and on 4th level there are 3 hour/week X 13 weeks of lectures and 1.5/week X 13 weeks of laboratory training.
Like this way, Universities in Bangladesh are educating many world standard AI human resources.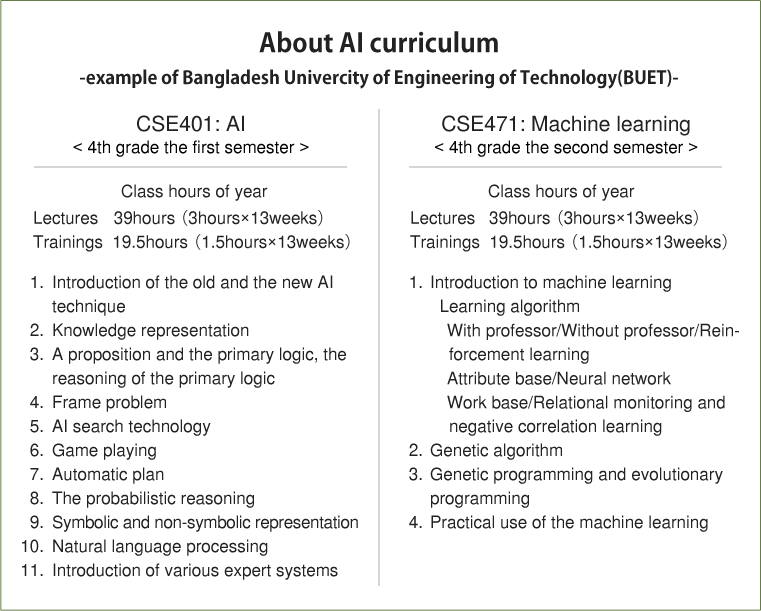 The reason why our company taking this initiative now is Mr. Trump who advocates tough immigration policy become as the president of USA. Until now many people are getting job in USA but after his assuming the president office it's become very hard for a foreigner to get a job in the US market. Therefore many IT engineers and Professionals are waiting in Bangladesh for better opportunities.

So, let's broaden the way of getting a job in Japan for the Bangladeshi people who like Japan.
---
Implementation Scheme
Bangladesh people are very good at logical thinking, they are diligent and serious.
Also they have strong admiration for Japan. So, let's broaden the way of getting a job in Japan for them!
Our company will provide full support service. We will organize joint job fair, interview and will provide supprot for visa processing, entry in Japan and Joining in the company.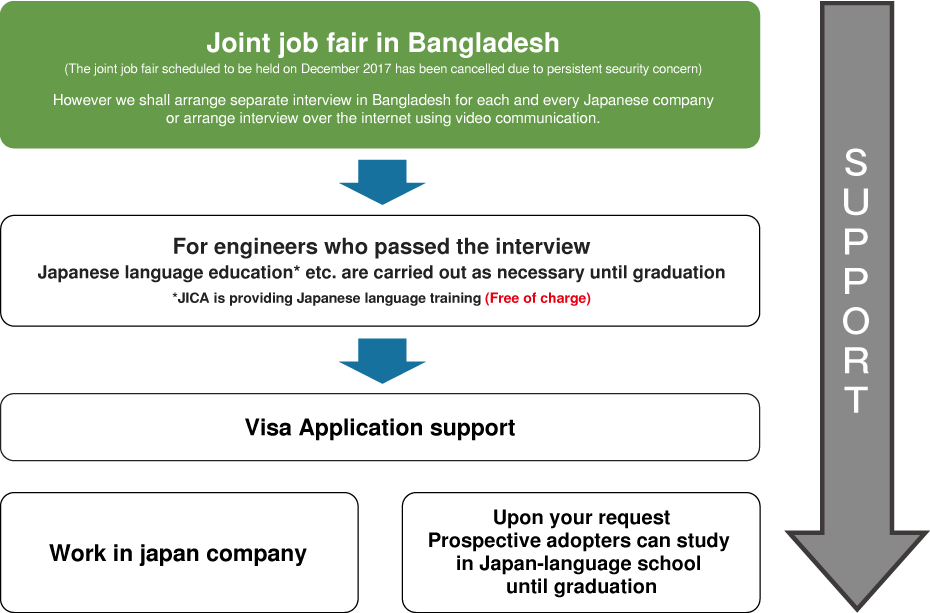 ---
Fee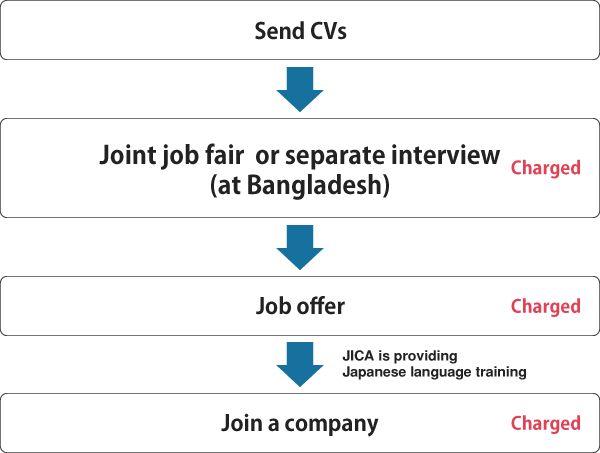 ** Optional services **
Internship (at japan)
Teaching Japanese language
Teaching Japanese culture
*Separate fee is required for optional services.
---
Inquiry
Please contact us about our service
Linkstaff co.,Ltd, Globalsolutions department

TEL: 03-3401-7288 Mobile: +8180-1100-6473
e-mail: bangla@linkstaff.co.jp